Investors have seen the landscape of the Las Vegas strip change dramatically over the past decade.
Throughout that time, they saw Blackstone become an early investor of properties on the Las Vegas strip during the most recent cycle which turned out to be a great call and more recently has been disposing of its ownership stakes in some of the most well-known properties which had been acquired through the JV transactions with MGM Growth Properties (formerly MGP) which was then acquired by VICI Properties (VICI).
A Brief History Lesson
Way back in May 2014, Blackstone made a noteworthy acquisition of the iconic Cosmopolitan Las Vegas from Deutsche Bank for $1.7 billion. In September 2021, Blackstone sold the property to MGM Resorts for $5.65 billion.
In October 2019, Blackstone formed a JV with MGM Resorts whereby Blackstone acquired the real estate assets of the Bellagio for $4.25 billion in a sale-leaseback transaction. A couple of months later in January 2020, MGM Resorts announced an agreement with Blackstone Real Estate Income Trust (BREIT) and MGM Growth Properties (MGP) to sell MGM Grand Las Vegas and Mandalay Bay in a transaction valued at $4.6 billion.
Fast forward to August 2021 and VICI announced an agreement to acquire MGP for $17.2 billion which then gave ownership to VICI of the JV agreements with BREIT in MGM Grand Las Vegas and Mandalay Bay. In December 2022, BREIT and VICI announced an agreement where VICI would acquire the remaining stake in MGM Grand Las Vegas and Mandalay Bay Resort for $1.27 billion in cash and $3 billion of debt that matures in 2032 at a 3.558% interest rate.
Following the most recent transaction, BREIT still owns The Bellagio and Cosmopolitan.
When we launched The Private Real Estate Strategy via Liquid REITs ETF (Ticker: PRVT), we wanted to use publicly-traded REITs to approximate the investment allocation decisions of the smartest public, non-traded REIT sponsors such as Blackstone and VICI became an obvious choice based on the continued exposure and growth of Las Vegas.
An Introduction to VICI Properties
VICI is a net-lease REIT that owns the land in Las Vegas on which such famous properties sit such as:
Caesars Palace
Excalibur
Harrah's Las Vegas
Luxor
Mandalay Bay
MGM Grand
New York-New York
Park MGM
The Mirage
The Venetian Resort
From their May 2023 Investor Presentation: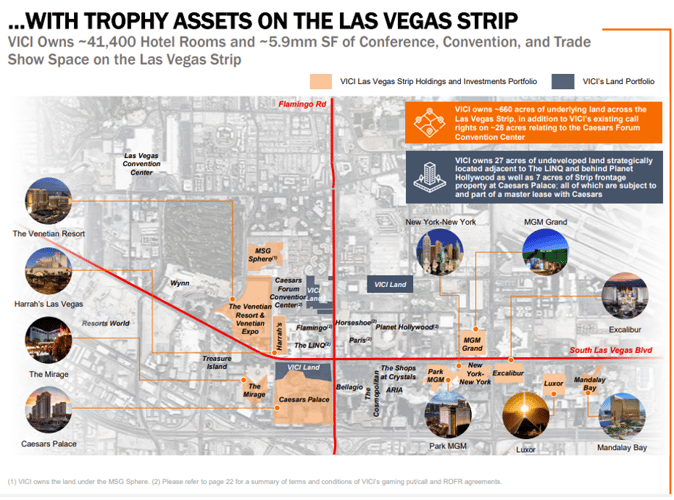 VICI also owns similar properties in gaming areas such as:
Biloxi, MS
Atlantic City, NJ
Tunica, MS
Joliet, IL
Lake Tahoe, NV
Laughlin, NV
New Orleans, LA
Philadelphia, PA
Bossier City, LA
Detroit, MI
From the company website, they note that "VICI Properties' geographically diverse portfolio consists of 49 gaming facilities across the United States and Canada comprising approximately 124 million square feet and features approximately 60,100 hotel rooms and more than 450 restaurants, bars, nightclubs and sportsbooks. Its properties are occupied by industry leading gaming and hospitality operators under long-term, triple-net lease agreements. VICI Properties has a growing array of investing and financing partnerships with leading non-gaming experiential operators, including Great Wolf Resorts, Cabot, Canyon Ranch and Chelsea Piers. VICI Properties also owns four championship golf courses and 34 acres of undeveloped and underdeveloped land adjacent to the Las Vegas Strip."
In case you didn't know, VICI was the top-performing REIT in the Morgan Stanley REIT Index (RMZ) during the COVID-19 pandemic and continues to benefit from the recovery of Las Vegas and other gaming areas.
But you're probably asking yourself, "Why was VICI the top performing company if all of the casinos were closed during COVID?" Every single one of its tenants paid its rent on time every month looking to the other side of COVID when the consumers would come back to their properties.
How's that Nevada recovery coming along? According to the Nevada Gaming Control Board, March 2023 saw gaming revenues top more than $1.3 billion which was a 3.2% decline from March 2022. They also note that March marked the 25th consecutive month where gross gaming revenue was more than $1 billion. As far as visitors are concerned, "The Las Vegas Convention and Visitors Authority (LVCVA) reported that more than 3.65 million visitors came to Southern Nevada in March, a nearly 10% year-over-year increase. The ongoing return of convention business fueled the spike, as exhibition traffic surged 40% to 771K attendees. Harry Reid International Airport officials added that Las Vegas' primary commercial airport served 16% more passengers in March 2023 than in March 2022. That increase was led by international passengers, which surged 64%. The average nightly hotel room on the Strip was $228.46, about $55 more than what the same rooms went for in March 2022. Strip casino rooms reported a March 2023 occupancy rate of nearly 91%."
So we've covered the Las Vegas exposure but what about their experiential investments in such platforms as Canyon Ranch, Cabot, Great Wolf Resorts, and Chelsea Piers?
Canyon Ranch
In October 2022, VICI entered into a term loan facility for up to $200 million to fund the development of Canyon Ranch's newest property in Austin, TX. Canyon Ranch is known as "the original, world-renowned trailblazer of integrative wellness". Each experience is unique for each guest and can be a different experience each time they stay at a property as they offer over 1500 services in areas such as nutrition, sports & performance, spa, mental health, spirituality and more where rates are around $900/night.
Cabot
In June 2022, VICI entered into a term loan facility for up to $120 million to fund Cabot's transformation of Cabot Citrus Farms in Brooksville, FL adding a new clubhouse, luxury lodging, health and wellness facilities and a village center. Cabot is the developer and operator of luxury residential, resort and golf destinations and in October 2022, VICI expanded its relationship with Cabot through its affiliate, CDN Golf Management, to have CDN manage and operate the company's 4 golf courses: Cascata, Rio Secco, Grand Bear and Chariot Run.
Great Wolf Resorts
In July 2021, VICI entered into a strategic arrangement with Great Wolf Resorts to provide financing for the construction and development of Great Wolf resorts throughout the country where they provided a $79.5 million mezzanine loan related to the development of Great Wolf Lodge in Perrville, MD and in a non-binding letter agreement, VICI "will have the opportunity for a period of up to five years to provide up to a total of $300 million of mezzanine financing for the development and construction of Great Wolf's extensive domestic and international indoor water park resort pipeline." Fast forward to February 2023 where VICI provided a $287.9 million construction loan related to the development of Great Wolf Lodge in Mashantucket, CT and the company noted that it was the fourth loan investment with Great Wolf for a total capital commitment of $553.4 million showing how the pipeline has grown.
Chelsea Piers
In August 2020, VICI entered into a $65 million term loan facility and $15 million delayed draw term loan with Chelsea Piers in New York City. Chelsea Piers is a 28-acre sports and entertainment complex with over 780K sf of space across Piers 59-62 along the Hudson River. The property includes the Golf Club, the Field House, Sky Rink, Chelsea Piers Fitness, and Bowlmor at Chelsea Piers; the Pier Sixty, Lighthouse, and Current event centers; along with Silver Screen Studios and the Maritime Center at Chelsea Piers.
I emailed Edward Pitoniak, VICI's CEO, some questions to highlight their overall strategy and below are his thoughts.
Why should investors care about gaming/net lease REITs in their portfolio?
Edward Pitoniak: "When you're investing in REIT equities, you want to be confident that you are investing in real estate that is benefitting and moreover will continue to benefit from the way people are and will be living, working and playing. For the last twenty years or so, consumers have shown an increasing preference for buying experiences versus buying things. That benefits experiential real estate generally and gaming real estate specifically. When you invest in VICI, you are investing in real estate that people will continue to visit and spend in for decades to come, giving you a chance to participate in owning the building, owning a share of the income produced by the building and any potential increases in the value of the building."
How do you view experiential offerings as the potential future of VICI and what others should be thinking about when it comes to that sector?
Edward Pitoniak: "To start with, gaming real estate is experiential real estate. We are the largest owner of hotel room real estate in America, the largest private-sector owner of convention and conference space, one of the larger owners of restaurants, night clubs, live theatres and arenas. When people visit Caesars Palace, for example, yes, they might gamble, but they may also attend an Adele concert, dine at Nobu and stay in the first Nobu Hotel, stay up late at the Omni night club, shop in Simon Property Group's Forum Shops, which sit within Caesars Palace. So as we've begun to invest in other forms of experiential real estate, we're investing real estate that has many of the same fundamental characteristics as our gaming properties. Places where our operating tenants create leisure, hospitality, entertainment and recreation experiences for their guests."
What should investors be concerned about when it comes to gaming/net lease REITs?
Edward Pitoniak: "You want to have confidence that the real estate is vital to the tenant today, tomorrow, for years to come. If the building is important to the tenant, the tenant will stay. If the building serves the tenant's needs well, the tenant will have the opportunity to make money and comfortably cover the rent we receive. It's the security of the rent we receive that enable us to continue to deliver and grow our dividend. A REIT that produces a dependable and, ideally, a growing dividend is a REIT that will deliver value for investors year in and year out. At VICI we've grown our dividend at a compound annual rate of about 8% over our first five years."
In your view, what is the long-term outlook for Las Vegas?
Edward Pitoniak: "As I said above, you want to invest in REITs that own real estate that aligns with how people are and will be living, working and playing. Las Vegas is the most dynamic place on earth right now when it comes to people congregating, whether in convention halls, arenas and stadiums, night clubs, theatres, you name it. We have the NHL and the NFL in town now, Adam Silver recently said Las Vegas is a strong expansion candidate for the NBA, and the MLB A's are seeking to move to Las Vegas. We have F1 arriving in Las Vegas later this year, host the Super Bowl in February and the NCAA Final Four in a few years. Las Vegas has competitive advantages that we believe will endure for decades."
Anything else you would like to add?
Edward Pitoniak: "Over our first five years, to the end of December 2022, VICI produced cumulative total return of 110%. During that same period the S&P 500 and the NASDAQ indices produced about 48% total return and the leading REIT index produced about 27% total return. We believe the tailwinds behind our category of experiential real estate put us in good position to continue to deliver value."
Conclusion
When Blackstone started acquiring Las Vegas assets back in 2014, they saw the potential growth of the city in tourist demand and still hold assets on the strip today. VICI is truly a unique net lease REIT providing experiential real estate. Mr. Pitoniak summed up the value proposition very succinctly by saying "When you invest in VICI, you are investing in real estate that people will continue to visit and spend in for decades to come, giving you a chance to participate in owning the building, owning a share of the income produced by the building and any potential increases in the value of the building." By staying laser focused and knowing who their customer is, VICI should continue to thrive as consumer demands continue to evolve.
To view the fund's top 10 holdings, click here.
Sources:
Blackstone/MGM Grand Las Vegas Transaction Press Release: https://investors.mgmresorts.com/investors/news-releases/press-release-details/2020/MGM-Resorts-Announces-Agreement-To-Monetize-Real-Estate-Of-MGM-Grand-Las-Vegas/default.aspx and https://www.blackstone.com/news/press/mgm-growth-properties-and-blackstone-real-estate-income-trust-to-form-joint-venture-to-acquire-the-las-vegas-real-estate-of-the-mgm-grand-and-mandalay-bay/
Blackstone/Bellagio Transaction Press Release: https://www.blackstone.com/news/press/blackstone-real-estate-income-trust-to-acquire-the-bellagio-real-estate-from-mgm-resorts-international-for-4.25-billion-in-sale-leaseback-transaction/
VICI/MGP Merger Press Release: https://www.businesswire.com/news/home/20210804005523/en/VICI-Properties-Inc.-Announces-17.2-Billion-Strategic-Acquisition-of-MGM-Growth-Properties-LLC
https://www.casino.org/news/nevada-gaming-revenue-totals-1b-march-las-vegas-strip-cools/
VICI May 2023 Investor Presentation: https://s1.q4cdn.com/751481880/files/doc_presentations/2023/05/VICI-Investor-Presentation.pdf
Ed Pitoniak Interview was on June 13th, 2023
Definitions:
Morgan Stanley REIT Index (RMZ) — The MSCI US REIT Index is a free float-adjusted market capitalization weighted index that is comprised of equity Real Estate Investment Trusts (REITs). The index is based on the MSCI USA Investable Market Index (IMI), its parent index, which captures the large, mid and small cap segments of the USA market. With 126 constituents, it represents about 99% of the US REIT universe and securities are classified under the Equity REITs Industry (under the Real Estate Sector) according to the Global Industry Classification Standard (GICS®), have core real estate exposure (i.e., only selected Specialized REITs are eligible) and carry REIT tax status.
NASDAQ — The Nasdaq Stock Market is an American stock exchange based in New York City. It is the most active stock trading venue in the US by volume, and ranked second on the list of stock exchanges by market capitalization of shares traded, behind the New York Stock Exchange
S&P 500 — The Standard and Poor's 500, or simply the S&P 500, is a stock market index tracking the stock performance of 500 of the largest companies listed on stock exchanges in the United States. It is one of the most commonly followed equity indices.